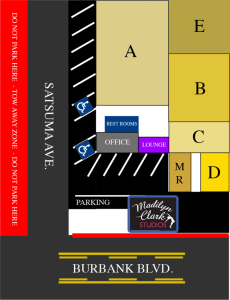 Amenities
All studios

 includes a full-key upright piano 

( always in tune ) 
S

tudios A-E include a

n amplified

 music playback systems

 using CD/Tape/Aux input via 1/8" Mini jack

Great Acoustics

Wood 

Floors

2 Unique Entry/Access points*

2 Restrooms

Water Fountain

Several Padded Seats and benches

AC / Portable Heaters available

Complimentarty mints at the entry way
*Main entry grants access to Studios A-C. Secondary Entry is for Studios C, D & Music Room. Side Entry is for Studio E.
Our decor was designed to make you feel comfortable and at home with soothing textures and tones, allowing you to calm your mind and rest your body.
Our facility is always clean and functional and our staff is always friendly and knowledgable.
You may bring your own equipment. Please protect our floors when doing so.
Our studios are available from 9:00 am until 11:00 pm M-F and 9:00 am until 10:00 pm on the weekends.
All Times PST *Additional hours available by arrangement only.
There are additional fees for production filming or Audio Recording Sessions at Madilyn Clark Studios.
Please call or stop by our office during business hours for details.